EVENTS IN MINERAL, WASHINGTON
~~~~~
MINERAL REUNION
(formerly MINERAL PICNIC)
Saturday, July 30, 2016

127 Mineral Rd, N.
Mineral, WA 98355
Come early, bring friends, pictures, memories & your favorite dish
Coffee will be on at 10:00 a.m.

WE NEED YOUR HELP!!
Please offer to help with setting up and cleaning up.

We would all like to know more about you…
Below is a "Biography Form" for you to fill out and return when you come to the Reunion. Your picture will be taken, and later inserted on your "Bio," so everyone may get to know you. A book will be made up of all those we receive.
If you want to send it in before the Reunion, you may send it to: Shirley McKenzie, 5470 Avenida Del Tren, Yorba Linda, CA 92887 or my email address mckenzie.w-s@sbcglobal.net
To Open and Print the Biography Form, click on this link.

For further information, contact:
Buck Wood 520-207-4478 uo1buck@cox.net
Shirley McKenzie 714-692-0108 mckenzie.w-s@sbcglobal.net
Thanks to everyone who brings their delicious dishes to the potluck lunch and to those volunteers who work to make each reunion a resounding success.





---
PAST EVENTS BELOW
The Mineral Old-Timer's Picnic
JULY 23, 2011
Mineral Grade School Gym!!
(now called Mineral Lake Event Center)
Come early, bring friends, pictures, and memories
Potluck Lunch will begin at noon.
Yes, the date, is correct. In order to use the school gym this year,
we had to move the date ahead one week.
WE NEED YOUR HELP!!
Please offer to help with setting up and cleaning up.
Next year, to save money, we will email this notice to those who have email addresses. Our current email list is incomplete and out of date. Please email Kathleen to be put on the new list. Those without email will continue to receive a notice by regular mail. Would someone like to take on this project? Help would be appreciated very much!

For further information, contact:
Kathleen Sallee 360-794-5036 sesallee01@comcast.net
Buck Wood 520-2207-4478 uo1buck@cox.net
Nancy Bickford 360-492-5161 bickford261@centurytel.com
Dolly Christianson 360-492-5561 orvinchristians@centurytel.net
---
OLDE TIME CHRISTMAS AT MINERAL LAKE 2010
Hosted by
American Legion Storm King Post #171
Saturday, December 11, 2010

(Click on individual thumbnails to enlarge)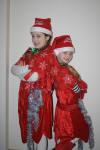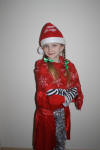 Needless to say, "A Good Time Was Had By ALL"
OPENING WEEKEND OF FISHING SEASON 2010
Annual Indoor Swap meet at the Mineral Lake Event Center. April 23, 24 & 25, 9AM to 6PM Antiques & Collectibles and other great treasures abound!
Mineral Arts & Crafts Guild is having their 6th annual show and sale April 24, 2010. The show will be held at the Mineral Presbyterian Church, 113 Lincoln Avenue, across from the Post Office. We have new artists and craftspeople and there will be something for everyone, lots to choose from. Hours will be 9AM to 4PM. As usual, there will be free coffee and cookies for guests.
Many of the area residents are having Garage Sales and there might even be a Church Bake Sale. Watch for the signs, and check the bulletin board at Mineral Market for exact locations.
Mineral Lake Cafe will be open, inside the Mineral Lake Event Center and there will be food available at the American Legion Hall in conjunction with the Opening Day Fishing Derby.

PLEASE remember to drive safely while in Mineral. There will be many pedestrians and lots of extra vehicles driving on the roads and boat trailers parked around town so the area will be congested.
---
4th Annual Music on the Mountain Festival
April 30 - May 1, 2010
20 Blues and Jazz Bands - Click here for Poster
Micro Brews, Wineries, Food Vendors, Arts & Crafts
The Best Blues/Jazz in the North West presented by Randy Oxford Entertainment and the Mt Rainier Regional Visitors Center.
This is a fund raiser for the Lewis County Food Bank
Admission is $25.00 purchased online or through reservations, $30.00 at the door. Active Military 25% discount.
Bring 2 cans of food get a 10% discount. Onsite camping available.
For additional information or reservations call 360-492-5039
Click here for the Press Release
---
Schedule or Attend an Event at Mineral Lake Lodge