The American Legion Storm King Post #171 of Mineral Announces Their
24th Annual Trout Fishing Derby
Saturday, April 22rd, 2017

~~~~~~~~~~~~~~~~
2010 Derby Winners:
First Place, Ken Fithin, (left) of Puyallup, 9 lb, 7 oz
Second Place, Richard Libby, (right) of Spanaway, 9 lb. 2 oz.
Third Place, Jack Brown, Mineral, 7 lb., 10 oz.

1st Prize, 34 lb thrust trolling motor, 2nd Prize: Fish Finder & Battery, 3rd Prize: Marine Radio & Battery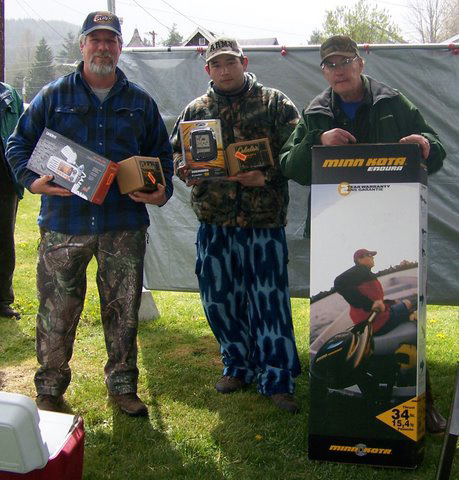 Your FISH PHOTOS FROM PAST YEARS ARE HERE!
2011 PRIZES AND RAFFLE DETAILS
Derby Weigh In: Any time between 6:00 AM and 12:30 PM on Saturday at the American Legion Hall. Derby Awards will be made at 1:00 PM. Derby Prizes will be awarded to the top 3 weigh ins.

1st Prize: Minn-Kota C2 30 lb. thrust trolling motor
2nd Prize: Fish Finder
3rd Prize: Depthmaster Downrigger

Rules: Trout only. Fish must be caught in Mineral Lake on Saturday, April 30th, 2010 between 12:01 AM (official sunrise is at 6:00 AM) and weigh in no later than 12:30 PM.Only Rainbow, Brown or Cutbow Trout caught in Mineral Lake are eligible for the Derby. In case of a tie in the Derby the girth of the fish will be measured to determine the winner.
Derby Tickets: Derby tickets are $2.00 each. Must have Derby ticket to be eligible for prizes and drawing. Food Basket tickets will be available separately. All tickets must have a full name and phone number to be valid.
The cut off time for Derby ticket to enter the actual derby ends at 11:00 AM and any tickets sold after 11 AM will be marked with an "X" which means the ticket is only good for the raffle after the derby. The weigh station is next to the Legion Hall on Front Street E.
Tickets will be available from any Storm King Post 171 American Legion Member, Mineral Market, Headquarters Tavern, American Legion Hall, Mineral Lake Resort, Elbe Grocery.
After the Derby, winners are announced, there will be a raffle drawing for over 40 raffle prizes, the Derby ticket is all you need.
The Legion is also having a Food Basket Drawing for a approx of $120.00 in gift certificates and there will be a drawing for a turkey.
American Legion Auxiliary Unit 171, Mineral, WA
"Fundraiser Raffle" Supporting Our Veterans, Community and Youth
Tickets available at the American Legion Hall on Front Street
2011 Prizes were:
Pontoon Boat Rental for a full day at Mineral Lake Resort ($100 value)
Blue Topaz ring set in 10kt. yellow gold ($200 value)
Ladies Timex Watch w/leather band and 1 diamond ($44.99 value)
Ticket Price = $1.00 each or 6 for $5.00 (12 for $10.00)
Drawing will be held on April 30th at 3:00 PM
at the American Legion Hall in Mineral, WA
All tickets must have a full name and phone number to be valid.
You need not be present to win.
FOOD
(2011 Menu)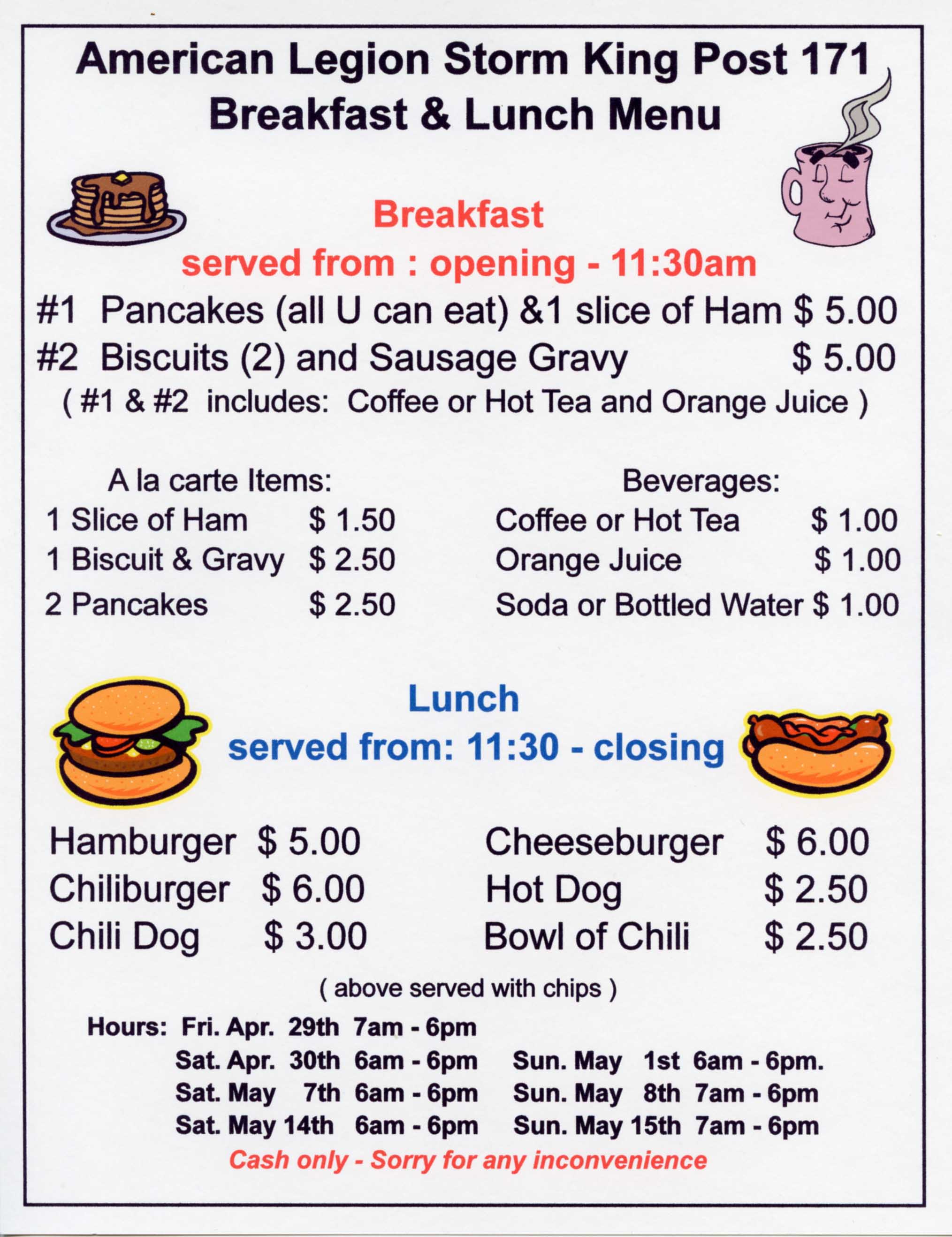 ATM located at Mineral Market